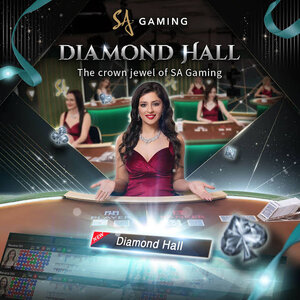 SA Gaming, one of the premier providers of live casino software in Asia, has unveiled its latest live dealer studio.
Dubbed the Diamond Hall, it's described as the company's "crown jewel" in terms of studio design.
How is the Diamond Hall Different?
SA Gaming boasts a solid range of games and studios, which you can read all about on this page. The games themselves largely involve baccarat and roulette, with a few examples of more unique releases.
However, this provider is also known for offering multiple studios all covering the same game. This allows players to tailor their experience to their needs and goals. A prominent example is the SA Gaming Sexy Hall, which offers their standard range of baccarat tables in a more… Relaxed setting, shall we say.
Similarly, the Diamond Hall is intended as a VIP sort of experience. The production value has been taken up a notch compared to the standard range of SA Gaming tables. The studio is designed to look more elegant than the older studios.
Other Improvements
Additionally, the studio has been outfitted with new technologies that SA Gaming fans may not have seen in the past. To be fair, though, most of these improvements remain in the "back end" of things and won't be noticed by the average player.
For instance, the new card scanners are supposedly quicker and more accurate than ever before. Coupled with the company's trimmed-down but efficient UI, it all works quite smoothly.
The best part? You can try the new SA Gaming Diamond Hall studio for free, right now. It's available in demo mode on the official website.
If you want to play the games for real money, we can also recommend 22Bet, a top-notch online casino that hosts SA Gaming Software. Click here to check it out right now.