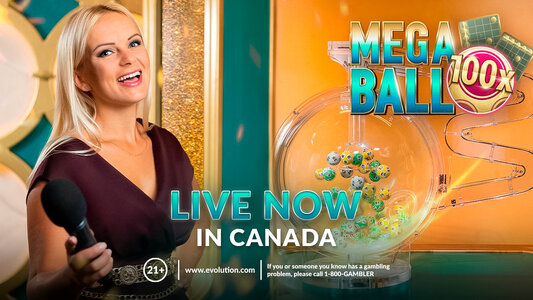 As part of a new deal between Evolution and the British Columbia Lottery Corporation, the award-winning live casino lottery game Mega Ball will now be available in additional casinos.
This will be the first time the game is available in a Canada-licensed online casino, introducing Canadian players to new experiences.
Mega Ball in Canadian Casinos
For better or worse, Canadian players already had access to the full range of Evolution games through off-shore casinos. As some of you may now, off-shore casino sites can offer access to more and better games. However, if you're using a site that's not licensed by your local gambling authority, your ability to pursue legal action if needed is severely limited.
The British Columbia Lottery Corporation licenses a few gambling platforms for this reason. Not many operators have BCLC permits yet, but the number has been steadily increasing since the regulative body was founded. However, one of the major issues facing Canadian live casinos is the fact that games have to be provided by a company and studio based within the same legal jurisdiction.
However, Mega Ball has now been launched in a North America-based studio, so it can be properly licensed by the BCLC.
If you want to find out more about live online casinos in Canada, click here.
Mega Ball and Future Plans
Mega Ball is a live casino game show that is similar to bingo in many ways. It revolves around a series of balls drawn from a large drum. However, it takes things a step further by introducing the trademark Evolution flair and presentation.
Evolution describes it as "a fast-paced game show, amalgamating a series of exciting features and mechanics." Evo has also pointed out the game's massive success in casinos outside of NA, and is expecting the same kind of prominence in Canada.
You can find out more about the game by reading our full Mega Ball review and guide.