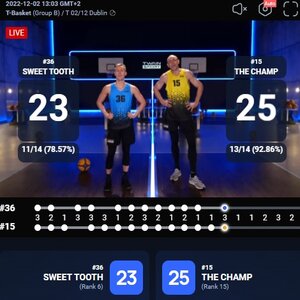 Live casino software providers have attempted to merge their products with the love of sports (and sports betting) for years. Some, such as Evolution's Football Studio, are not all that creative once the chips are down. Others, such as Jet Set Racing from Playtech, do more and actually integrate beloved competitions into the games themselves.
All of that pales in comparison with what Betgames is doing, though.
In a new partnership with Twain Sports, a modern hybrid sports organization, Betgames has released a pair of ground-breaking titles called T-Kick and T-Basket.
We know we get easily hyped for innovative live casino games and praise games that change the rules and whatnot. However, BetGames Twain Sports are in a league of their  own, and we've never seen anything even remotely close to this.
What Are  T-Kick and T-Basket?
Without going into too much detail, these two sports aimed to combine traditional disciplines such as football and basketball with e-sports. They're fast-paced and exciting, intended for a young and modern audience.
Let's start with T-Kick. Based on football (or soccer if you prefer), two players face each other in a 60-second round of goal kicks. Their job is to hit targets on a goalpost. They have to use specific sets of balls to hit a specific target – both of these variables change with every kick. Successful shots earn the player between 1 and 3 points, and the player with a higher score and better accuracy wins.
T-Basket is fairly similar, only it only has one basket hoop instead of 6 targets.
Twain, in turn, organizes tournaments and leagues all across the world. For betting purposes, over 200 matches happen every day.
And we get to bet on them.
Betgames Betting
So how does all of this mesh with casinos and online gambling?
Well, Betgames' latest releases allow you to bet on the results of every match. There's one match every 3 minutes, so you'll never run out of things to do.
The bets are structured just like in regular sports betting. Players are ranked based on success, win rates, accuracy, and so on. These rankings are then used to determine betting odds. For example, betting on a very strong player who is likely to win results in smaller profits.
To make things even better, Betgames included dozens of types of wagers. You can bet on anything from the match winner, to handicap betting, to the first scored value.
This is essentially a perfect marriage of sports betting and live casinos. Needless to say, we here at LiveCasinos will be following the release closely, and you can expect full game reviews in the near future.