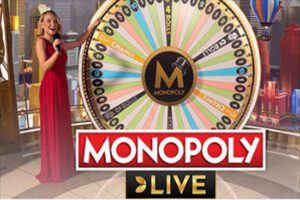 In 2019, new live dealer games hit the market and some of them have nothing to do with traditional casino games. Instead of the gameplay that requires skills and learning strategies, they offer loads of excitement and higher prizes. They are mainly based on luck, allowing novices to this form of entertainment to play them and win big. Let's learn more about new live casino titles you can play at some of the best online casinos on the market.
What's New about New Live Dealer Games?
While new slot machines are launched on a daily basis, live dealer games take more time and efforts to go live. In spring 2019, the leading live casino solutions provider Evolution Gaming surprised us all with no less than five new titles. All of them are quite innovative about the way they work. The first game rolled out was Monopoly Live, based on the popular board game and using the elements of their 2018 release Dream Catcher. The biggest novelty about it is its bonus round inspired by the original board game. Players can win up to $500,000 within it.
Another Evolution title that draws the attention of players at the moment of writing this article is Deal or No Deal. Hosted by a live presenter, the game is based on the popular TV show. It brings plenty of excitement due to an element of luck involved since you first need to qualify for the show where you can win prizes. If you have ever watched the TV show, the idea behind the game is familiar to you. Basically, this is a game where you have to risk larger amounts of money if you want to win big. For those ready to risk, there is a top prize of 500x the stake up for grabs.
For those who still prefer good old table games, there are three releases by the same developer with additions that make them unique in the market. The first one launched in 2019 is Super Sic Bo that adds random multipliers going up to 1,000x to regular payouts. If Blackjack is your game of choice, Free Bet Blackjack can be a perfect fit for you. This game variant offers free double down bets on hard 9 to 11 and free split bets on 2 to 9 and Aces. Finally, 2 Hand Casino Hold'em allows you to play two hands at the same time providing you with an extra chance to beat the dealer.
Tips & Strategy
For a chance to enter the bonus round in Monopoly Live, one has to place bets on the 2 Rolls and 4 Rolls segments while covering a selection of numbers as well. When it comes to Deal or No Deal, you can increase your odds by buying golden rings to qualify for the show. If you get lucky and join the show, keep an eye on the boxes on the left and right. They show how much money has left in the briefcases that haven't been opened yet. If the dealer offers you an amount that is 2x the money you have wagered, accept it. In this game, it is crucial to know how much you have wagered to qualify for the game.
If you want to benefit from random multipliers in Super Sic Bo, you have to be ready to take a risk. While the game uses the same rules as the standard one, multipliers are added to random betting options. Yet, those paying even-money prizes are excluded. That simply means you have to play those bets with a higher house edge if you want to win big. When playing Free Bet Blackjack, you should use the Blackjack basic strategy and go for free bets only when you should double down or split. Finally, there is no special strategy to use when playing 2 Hand Casino Hold'em. You should play each of the hands according to the basic strategy for this game.
Stick to Traditional or Go for Novelty?
The answer to this question depends on your preferences. If you like games of pure chance, you should give Monopoly Live and Deal or No Deal a try. Otherwise, the other three games by Evolution may be your cup of tea. If you opt for them, always keep in mind the best strategy that can help you win.