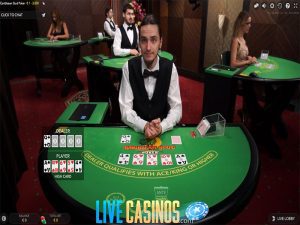 Being a hugely popular Poker variant, Caribbean Stud can these days be played at just about any online casino you care to visit. Even though game developers focus on slots, and Poker games represent only a small fraction of their overall portfolios, Caribbean Stud is as a rule included in the table games offering. If you're a fan, you may want to take it one step further and secure a virtual seat at a Poker table hosted by a live dealer and play the game together with others who share your passion. Before you do, check a few tips and tricks to ensure you get the most out of this game, both in terms of enjoyment and payouts.
Know Your Game
This may sound very basic, but you'd be surprised to know how many players wager real cash without being fully familiar with the rules and payouts. So let's do a quick recap. You'll receive five cards and the dealer will deal himself five cards, one of which face-up. Based on what you see, you can decide to fold (and lose the ante), or call by betting double the ante. The dealer has to qualify with a minimum of Ace plus King. The strength of the hands in Live Caribbean Stud follows standard poker rules, and payouts will normally range from even money for a pair to 100:1 for Royal Flush, but may vary depending on the casino you're playing at.
Fold or Bet?
There's really only one point during the game of Live Caribbean Stud where you've got the chance to employ strategy, and that's when deciding whether to fold or play on. Two simple rules should always be followed:
Fold if holding less than an Ace with a King
Always raise with a pair or better
Some players will get excited over an Ace followed by one or more high cards, and while the hand may look tempting, anything less than Ace plus King is simply not worth playing. Other gamers will be reluctant to bet on a weak pair, such as two deuces, but not doing so would be considered a missed opportunity. A pair will win against the dealer more often than not, and even a low one stands a good chance.
So far, so good. But what if you're holding Ace and King? While it's not a huge mistake to bet on this hand regardless, you may want to be a bit more selective. For example, you should bet if your cards are overall higher than the dealer's up card, especially if the latter is matched by one your cards (making it less likely they'll score a pair). If the dealer is showing an Ace or a King, you should fold.
Side Bets – To Play or Not to Play?
If you've played the game before, you may have found yourself holding a strong hand while dealer fails to qualify. It can be extremely frustrating, right? That's why Caribbean Stud features Jackpot side bet which will pay based on your hand alone, regardless of what happens with the dealer. In Evolution Gaming's Live Caribbean Stud, this side bet offers a chance to collect fixed-value payouts for Three of a Kind, Straight, Flush, Full House, Four of a Kind and Straight Flush, and a progressive jackpot prize increasing in value with each round until won by a Royal Flush. The same game also offers 5+1 side bet with the objective to make the best possible five-card hand by combining your own cards and the dealer's face-up card. It pays on Three of a Kind or better, and comes with the highest potential win of 1,000 to 1. So should you play these or not? Payouts can be exceedingly generous, but keep in mind side bets come with very high house edge. So it may pay to try them out occasionally or for short runs, but consistently placing side bets round after round could prove to be fatal for your bankroll.
Final Word of Advice
Make sure to stay cool and focused. Everybody experiences occasional losing streaks so don't freak out when faced with one. Getting emotional leads to mistakes, especially when combined with a fast-paced game. Losing your focus could result in simple errors such as believing you're holding a Flush when in fact your hand consists of hearts and diamonds.