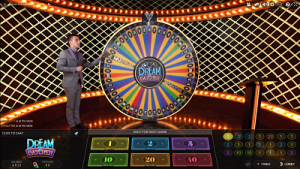 Dream Catcher is the latest addition to the Evolution Gaming portfolio. Basically, it is a Money Wheel game that is available at live casinos powered by one of the most reputable providers of live dealer games. This is the first title in the brand new live gaming category offered by Evolution Gaming. With probably the simplest rules of all casino games, Dream Catcher is easy to learn and it will surely attract slot players who would like to feel the live casino atmosphere. Just like other games from the provider's collection, Dream Catcher is operated by live dealers and can be played on both desktop and mobile devices. The game is broadcast live from studios in Riga, Latvia, in HD and standard quality.
Basic Rules and Gameplay
Live Dream Catcher features a large Money Wheel operated by a live dealer. The wheel has 54 pockets, 52 with a set of numbers between 1 and 40 and two featuring 2x and 7x multipliers. The game starts when a player chooses chips they want to wager and places them on the preferred numbers. They have 15 seconds to make their decision and place bets on the table. A betting range is quite wide, starting at only $0.20 and going up to $10,000. When betting time is over, the dealer spins the wheel. The numbers the player bets on are actual payout values that are multiplied by the total bet placed on that particular number. If the wheel stops on one of two multipliers, the dealer spins it once more and the multiplier is applied to the payouts from the next round. The basic rules are as simple as that, so stay with us to learn what you can do to make the most of this game of chance.
Tips and Tricks
Don't let the bright colours and flashy lights blind you while playing Dream Catcher. No matter how appealing the game may be, you have to make your decisions reasonably. Another thing that might distract you from focusing on the gameplay is the dealer's constant chatting as they are here to provide you with an enjoyable playing experience and make you feel welcomed and comfortable. Yet this can be a little too much sometimes, especially if they start to sing, which happens from time to time.
What you should keep in mind is that the wheel has 23 pockets with the number 1 and 15 pockets featuring the number 2, which means that these numbers can show up more frequently than 10, 20 and 40. The number 5 is featured on 7 pockets while 10's and 20's show up only on 4 and 2 pockets respectively. The number 40 is the hardest one to hit as it appears only once on the wheel. It is recommendable to start playing at lower bets and increase your bet value once you start winning. Once your bankroll is well established, you can place your bet on the numbers with lower odds of winning. Manage your budget well and don't exceed the win and loss limits you have set.
Advantages of Playing Dream Catcher
Dream Catcher is undoubtedly a fun and exciting casino game that will provide you with an immersive gaming experience thanks to live dealers operating the wheel and state-of-the-art light and sound effects included. The action is captured with multiple cameras, so you can enjoy it from different angles with close-ups. The game is suitable both for beginners and high-rollers who can control the gameplay and adjust a bet value to their bankroll. If you like Money Wheel games, Dream Catcher is the one you can play from the comfort of your home or on the go and enjoy a genuine land-based casino experience.