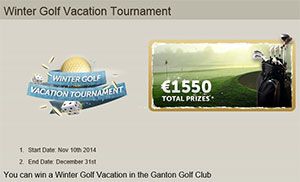 Ever wanted to go out and play a little golf? Now you can win the whole golf package! With Fairway Casino's promotion – "WINTER GOLF VACATION TOURNAMENT," you're able to win the package of a lifetime. Starting the first of November and lasting until the end of December, you're able to compete against others for one of ten different tournament prizes – all ranging in size. In order to compete all you have to do is play the live casino games, and you can then earn points for the tournament.
So what exactly are you able to win during this tournament? First place is able to get an entire vacation at Ganton Golf Club, so you can play as much as you'd like. Second place is taking home €500, while third place gets €250, fourth and fifth place winners will get €100 and sixth through tenth will earn €50 – there is a shot at winning one of these spots! All you have to do is play the live games and rack up those points!
For additional information about the tournament, go to www.fairwaycasino.com.
About Fairway Casino
Be able to play a number of live dealer games when you enter into Fairway Casino. They offer poker, baccarat, roulette and so many more. Each dealer is in a sophisticated setting, and the sleek backdrop makes you a high roller each and every time you log into their casino to play. With dynamic gaming and ease of use, be the winner in today's live gaming world.