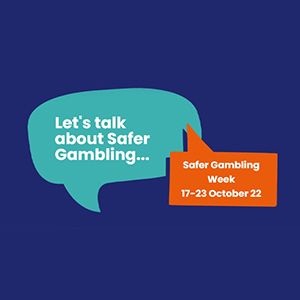 The Betting and Gaming Council (BGC) announces the start of Safer Gambling Week 2022. This week, from 17-23 October will be marked as Safer Gambling Week, previously known as Responsible Gambling Week. The event aims to highlight the regulated industry's year-round commitment to safer gambling in Ireland and the UK.
This year marks the fifth year this event is organized by the Betting and Gaming Council. Bacta, the Lotteries Council and the Bingo Association are also responsible for this event taking place.
Safer Gambling Week Goals
The Safer Gambling Week 2022 will include 'a blitz of safer gambling messages', both online and in land-based venues. The organizer hopes that these messages will result in encouraging a nationwide conversation about responsible betting. Although the industry focuses on safer gambling all year round, this week allows the sector to demonstrate its focus on preventing harm.
BGC's Michael Dugher says: "We know that rates of problem gambling are low and are now falling, which is great news. However, Safer Gambling Week is further evidence of the regulated industry's determination to keep raising standards."
Speaking of rates, The Gambling Commission reports a 3% increase in overall participation in gambling activity in 2022. However, the problem gambling rate reached only 0.2%, a direct result of the industry's aim to promote safer gambling all year round. The problem gambling rate is statistically stable at 0.2%, as well as the moderate and low-risk rates. They stand at 0.9% and 1.4%, respectively.
Responsible Gambling Tools
In addition, BGC members demonstrate their commitment to safer gambling every day through initiatives such as promoting an array of different tools. Some of the tools designed to help players are deposit limits, time-outs, and self-exclusion from services. This week gives many businesses across the UK the chance to go even further in helping people who might be struggling with addiction. The initiative also strives to encourage people from all walks of life to open up a conversation about gambling.
The UK Government
The UK government is more than happy to promote this event, hailing it as a necessary tool against problem gambling. They have also announced their support towards the industry coming together to champion safer gambling. In addition, the industry will work towards highlighting the resources available to help reduce harmful gambling, as well. The campaign represents an important initiative to promote gambling awareness and prevent problem gambling. The UK government welcomes companies and operators that take more responsibility in this matter.
Chief executive of the Gambling Commission, Alex Rhodes says that this week brings the focus to customer protection. He says: "The safety of customers should be at the heart of each and every decision operators make."
The Safer Gambling Week will give additional chance for operators to share best practices around how they protect their customers.