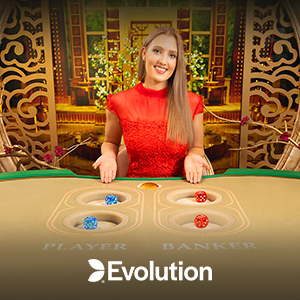 Evolution has launched Bac Bo, a unique dice game in the spirit of Baccarat.
Dice-Fused Baccarat Variant
Set in a state-of-the-art Asian-themed environment, Bac Bo offers easy-to-understand gameplay with an engaging game flow.
Bac Bo has several similarities to Baccarat but is played with four dice. The game's objective is to predict which hand will win and the hand with the highest two-dice total wins.
Essentially, Bac Bo is a simpler version of Baccarat. Instead of using cards, in Bac Bo the Player score and the Banker score is the sum of two dice, automatically shaken in four individual shakers, two for each hand. Banker and Player both roll their pair of dice, and the resulting two numbers are added together. The highest two-dice total wins or, if the totals are the same, the round ends in a Tie, which offers payouts of up to 88 to 1.
Simple, Yet Unique
Todd Haushalter, Chief Product Officer at Evolution, commented on the new game.
"Bac Bo is another unique creation from our very talented product team and developers. It blends the essence of two classic games, Baccarat and Sic Bo, and creates something entirely new and different. You get the elegant flow and excitement of a 'come from behind win' that makes Baccarat so popular – but with the visual excitement of a dice game."
Haushalter added: "Whilst very much in the spirit of Baccarat, Bac Bo is a game that's quick to understand. It has easier to follow rules and gameplay compared with Baccarat, with just the outcome of the simple dice rolls to consider. The dice rolls – and the excitement – just keep on coming!"
Check out our Bac Bo review and learn how to play this unique Baccarat variant!