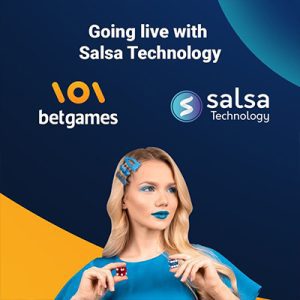 BetGames has signed a content partnership with B2B content aggregator Salsa Technology.
What Partnership Entails
This deal will see BetGames supply its suite of gaming to several markets across Latin America, including Colombia and Mexico. The alliance is to become "a key asset" for the provider. Additionally, the agreement will have multichannel plans in the pipeline. This means that the collaboration will expand across desktop, mobile, and retail.
Alberto Alfieri, COO at Salsa Technology, commented on the agreement. 
"BetGames has curated a superb portfolio of games that we feel will fit perfectly within our Salsa Gator. We're always looking to enhance our iGaming offering and we cannot wait to start seeing results now the integration work is done."
Ambitious Growth Plans
This announcement follows several key developments for BetGames. The studio underwent a significant rebrand in recent months, as well as launching its Lotto Reloaded series early in the year.
Recent developments have seen the group prepare for a Greek roll-out alongside Kaizen Gaming. They seek to further reinforce its global goals following the hire of Ian Catchick as chief product and business development officer.
Aiste Garneviciene, BetGames' COO, is happy to announce the collaboration with Salsa Technology, the popular technology developer on LatAm market.
"Striking a deal with a company well-positioned in a market like LatAm is great news for us and our partners," he said.
"With a full integration, players can now enjoy our industry-leading fixed-odds betting games in the continent's key regulated markets."
The live dealer and betting games supplier has some amazing announcements in early 2022, so stay tuned.