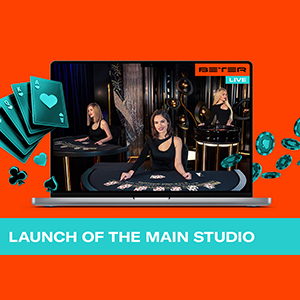 BETER has announced studio expansion plans as it continues in its bid to revolutionise the vertical.
New Superstar
The ambitious provider plans to double the number of tables in its main studio by the end of the year. This means even more high-tech, entertainment-first gaming experiences are in store for its partners' players.
Its state-of-the-art cinema-style studio boasts impressive features including dynamic lighting, 4K quality cameras, and an interactive wall. Altogether they are delivering a completely unique live casino experience.
BETER Live's portfolio of quality games is developed by a team of live casino and TV production experts. 
Experienced casino dealers lead the games. Meanwhile, operators will benefit from localised server deployment and a full range of complementary languages.
Heralding a New Era of Live Casino
Anna Vikmane, the director at BETER Live, commented on the company's exciting future. 
"BETER Live is growing rapidly and experiencing exponential growth right now, so it's only natural that we compliment this growth by increasing the size of our studio allowing us to offer players more.
"All the pieces of the puzzle are beginning to fall into place," Vikmane added. 
They've announced their first selection of live casino games and have agreed partnerships with industry-leading operators. 
"I can't begin to explain just how proud I am of our journey so far, this is only the beginning – watch this space!"