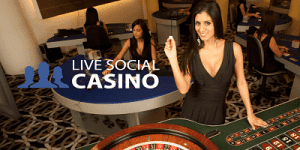 Today having an account on one or more social networks is a must to stay in touch with your friends, relatives or acquaintances. Besides posting, liking or chatting with your friends, you can also enjoy loads of entertainment and one of the available forms is social gambling. As you may suppose, social gambling is gambling on social media. In most cases, this form of entertainment does not involve money, but more and more operators offer various perks you obtain with real money. Social media games are available on Facebook, Instagram, and other social networks and players can enjoy them everywhere in-browser for free and win some real prizes.
In efforts to provide social media games players with even more entertaining and immersive gambling experience, social gaming companies have come up with new products and one of them is Live Social Casino where players can enjoy a live casino experience. Just like at live casinos available at gambling sites, at live social casinos players can interact with other players and live dealers operating the tables.
How It Works
Live social casino is the concept based on an application that is available to users of a particular social network. The games are streamed in real time, just like at live online casinos. Via the live social casino application, players can enjoy casino games with live dealers in free play mode and chat with live dealers and other players. The key difference between social live dealer games and other forms of social gambling is in the introduction of a live person who hosts the table and makes the overall gaming experience more similar to playing table games at brick and mortar casinos.
Live social games keep the community element, so you can invite your friends to join you at your favourite table. One of the biggest advantages is that you can play live dealer games for free, which provides you with a great opportunity to practice this type of games before you start playing them at a real live online casino. This option is not available at live online casinos and if you want to participate in this form of entertainment, you have to wager real money. Besides, you can enjoy these games regardless of the online gaming regulations of your country, as they are free and available worldwide.
Live Social Casino Providers
One of the first gaming companies that offered live social casino games is Vivo Gaming. As a live dealer games provider, Vivo Gaming supplies social gaming companies with its products. They include Live American Roulette, Live European Roulette, Live Blackjack Early Payout and Live Baccarat 24/7/365. All these games are designed strictly for social gaming operators and can be played only in free play mode. The provider has partnered with Facebook to create the first live dealer app allowing the player to enjoy a genuine casino experience directly on Facebook through a web or mobile browser.
Another live dealer games provider offering this form of entertainment is Visionary iGaming. Their live social casino solution provides operators with the necessary infrastructure and capacity to support up to 15,000 concurrent users or approximately 1 million active users on a monthly basis.
The solutions developed by these companies provide operators with a live online casino platform that perform across desktop and mobile devices including smartphones and tablets. The tables can be joined 24/7/365 and are available for full brand customization.
Why Play Live Social Casino Games?
The answer to this question is simple: you can play this type of games for pure fun. Play solo against a live dealer or invite your friends to join you at your favourite table and enjoy a genuine land-based casino experience wherever you are without risking your own money.