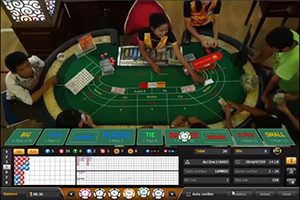 Baccarat is one of the most popular games in land-based casinos, but it is also popular in live casinos on the web. Owing its popularity to easy rules and high stakes, Baccarat is different from other card games available at casinos due to an element of luck and risk at the same time. Yet, we all strive to learn how to lower the house edge and beat the casino when playing it.
If you like playing Blackjack, you are familiar with the fact that card counting is one of the techniques that can get you an advantage over the casino. What about card counting with Baccarat? Is it possible? Will it improve your odds? If you are interested to learn more about this technique and how you can apply it to Live Baccarat, stay with us because we will provide you with answers to all the questions regarding Baccarat and card counting.
Baccarat Card Counting Rules
Assuming that you are familiar with the Baccarat basics and the bets you can play, we will move fast forward to the basic rules of card counting in Baccarat. To use this technique, you have to play at the table using a 6-deck or 8-deck shoe and join it while the shoe is fresh. You start counting cards with 0 and the following rules apply:
A, 2 or 3 are worth +1
4 is worth +2
5, 7 or 8 are worth -1.
6 is worth -2.
9, 10, J, Q and K are worth 0
Now that you know the value of each card, you should apply the card counting technique to the gameplay. Keep in mind that just like with Blackjack, this is the running count and you have to divide it by the number of decks left in the shoe to calculate the true count. When the true count is equal to 16 or higher, you should play the Player bet. If the true count is below 16, switch to the Banker bet. As you know, the Tie bet comes with a higher house edge and it is not advisable to play this type of bet when applying the card counting technique.
Baccarat Card Counting at Live Dealer Tables
When playing online versions of Baccarat operated by RNG, it is impossible to count cards as they are dealt from fully shuffled shoes. On the other hand, live dealer games are closest to the card games you can play at land-based casinos yet with shoes shuffled on a regular basis, card counting is practically prevented. The dealer never uses all the cards, so you can count only a half of the shoe, that is 3 or 4 decks. Because of this, card counting may not be the best possible strategy you can apply to Live Baccarat.
Instead of card counting, you can try using Baccarat roadmaps that can help you track patterns and make better decisions and moves. While card counting is frowned upon at most casinos and live casinos use software that can identify when betting patterns match the count which can result in banning you from further playing, Baccarat roadmaps are welcomed by casinos. When playing Live Baccarat, you will be able to check out the results of previous rounds presented on the screen. If you are curious about using Baccarat roadmaps, click here for more information.
To cut a long story short, card counting in Live Baccarat can be exhausting and you can never be sure that your efforts will give desired results. That's why it is advisable to stick to the optimal strategy that can help you maximize your winnings while playing Live Baccarat.