Blackjack is prevalent in the international gambling community – no surprises there considering we're talking about a casino gaming mainstay. Hence, it is not a surprise that so many providers and operators are pushing for new, innovative Blackjack variations. What strikes us the most is that, although regular online variants are exciting, the punters are more geared towards live dealer tables.
Our team has compiled extensive data about popular Blackjack variants that sport unique features. All these games that you are about to meet inhabit major international casino venues. We made sure to include every bit of information that could be of use for you. Without further ado, here are the top Blackjack variations that you can find in your favourite live casinos today.
Different Types of Live Blackjack Online – Rule Differences
Technology has changed the way we perceive traditional gambling. Moreover, it has changed the way we view modern online games! As a general go-to option, Blackjack is not an exception.
But how to differentiate between all these new blackjack variations? The tech behind it is so powerful that it takes a lot of dedication to try them all out. Thankfully, our team is up to the task.
Before you enter the vast realm of live Blackjack, you should know that there are numerous popular types of live dealer Blackjack tables. Even though the rules and gameplay overlap for most blackjack variations, there still are exceptions. Here are the key differences in the rules for Blackjack live dealer tables.
The dealers are not always present. In most live Blackjack games, the dealers lead the game, but that is not necessarily the case. There are several variants where the game doesn't feature a dealer. For the players, the presence of the dealers is an important factor that helps with keeping track of the cards. For instance, it is impossible to count cards if the automatic dealers shuffle the cards after each round.
The dealer doesn't always have to stand on soft 17. A soft 17 contains an Ace that can be either 11 or 1. If the dealer stands on soft 17, the player has a bigger advantage. We already have a full rundown of the soft 17 rule in blackjack and how it should affect your strategy.
Games with and without Surrender. 
Surrender is an excellent option to have at one's disposal while playing the game. Punters should avoid playing at tables that do not offer Surrender.
The default setting is that Blackjack pays 3 to 2. However, there are casinos that lower that payout to 6 to 5, thus hurting the players' chances for bigger wins.
Some variants allow players multiple Splits, while others allow only one. Before you pick your option, make sure to check all rules of gameplay.
Different Live Dealer Blackjack Variations
Unique mechanics, special features, and innovative add-ons are an exciting way to spice up the game. Today, the choice of features is inexhaustible. For an average player, such scope might quickly become overwhelming. Nevertheless, we tried to create a list of top games that perfectly encapsulate the era that we live in – innovation, improved gameplay, and entertainment.
Here are the top titles with innovative features that you can find across all online casino markets.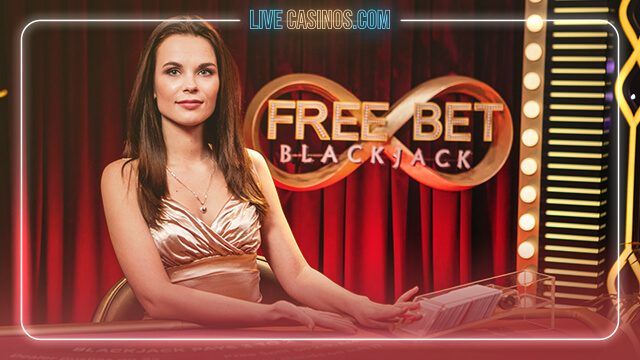 Free Bet Blackjack (98.55% RTP) – Evolution Gaming
Introduction to Free Bet Blackjack
Free Bet Live Blackjack is one of Evolution's most innovative games from 2019. This variant's main advantage over classic titles is the presence of free bets, i.e. bets that you won't have to pay provided you meet the necessary conditions.
How to Play Free Bet Blackjack
Rules in this variant resemble the standard rules. The dealers initiate rounds by allowing the punters to place bets. After the dealers deal the cards, punters choose an action. This is where it gets interesting – in some instances, they get to select Free bets. These bets apply to Double and Split actions. For Double, you can get a Double bet for free if you have a hard 9, 10, or 11. On the other hand, you can use Free Splits on all pairs, save the 10, J, Q, and K.
Additionally, the game has a new rule for dealer busts – the dealer busts on 22, and the result is a push. In other words, you will not get winnings (even if you have a Blackjack) but only your returned bet. For more information about the game, please check our Free Bet Blackjack review where we explain everything in detail.

Live Cashback Blackjack (99.55% RTP) – Playtech
Introduction to Live Cashback Blackjack
Cashback Blackjack Live is a brand-new live dealer table from Playtech that arrived in June 2020. The game is not exactly new – the company already has an eponymous RNG version that's quite popular in Playtech casinos. However, the developer wanted to upgrade the smashing game, hence the live casino update. The new game resembles the original on many aspects, but it has more side bets (and it's live).
How to Play Live Cashback Blackjack
The game features standard game elements, except players can use a Cashback option in every round. Thanks to this feature, players can diversify their gaming experience with new strategies for Cashback, Hit, Double, and Split. An unlimited number of players can play Cashback Blackjack.
Each round begins with placing bets. The dealer reveals the cards, and then each player gets a chance to pick an action, Cashback being one of them. The dealer must draw until 16 and stand at 17.

Power Blackjack (98.80% RTP) – Evolution Gaming
Introduction to Power Blackjack
Power Blackjack is the 2020 extension of Infinite Blackjack. In fact, it builds on the Infinity foundation, but the two versions diverge when it comes to gameplay. The two tables have a lot in common, but the newer Power version outshines its processor thanks to innovative designs.
How to Play Power Blackjack
Namely, the most striking element of Power Blackjack is the fact that there are no 9s and 10s in any of the eight decks. Therefore, players must come up with entirely new strategies to play the game.
Another important feature that attracts the players is the Multiplier bet. In every round, punters can double, triple, and quadruple their bets by clicking the special buttons next to standard actions. An extra element of surprise that adds flair to the game are the four side bets – Bust it, Any Pair, Three of a Kind, and Hot Three.

Live Hybrid Blackjack – Ezugi
Introduction to Live Hybrid Blackjack
Hybrid Blackjack from Ezugi is a live game that combines standard live dealer Blackjack and RNG simulators. There is a live dealer, but the players can access the RNG simulator, which only enhances the experience.
How to Play Live Hybrid Blackjack
Its greatest benefit is the combination of a card dealing simulator with a live croupier that deals the cards. On the screen, players can use the intuitive interface that displays necessary info for each round. That includes previous game stats, the players' cards, as well as an overview of the dealer's cards.
To play, gaming enthusiasts do not have to learn complex strategies. The only thing that they need is a solid knowledge of classic Blackjack, and they are all set. After choosing bets, the dealers get to see their cards and then pick an action based on the card combination. If they manage to beat the dealer, they win.

Quantum Live Blackjack (99.47% RTP) – Playtech
Introduction to Quantum Live Blackjack
Quantum Blackjack is one of the titles in Playtech's growing collection of Quantum titles. Before Blackjack, we got to meet Quantum Roulette, and soon after, Quantum Slingshot rolled out. The best thing about this release is that Playtech kept it simple – the company introduced upgrades but kept the gameplay the same.
How to Play Quantum Live Blackjack 
Standard rules apply here. Bet placements mark the beginning of the round. It has become customary to allow access to an unlimited number of players to the table.
During the round, players can get Multipliers in any hand. Multipliers in Quantum games are the biggest feature. Namely, before each round, an RNG add-on picks three random numbers to attach Multipliers. If players receive any of the three chosen cards and win, their winnings will rise according to the corresponding Multiplier. The max Multiplier in the game is 10x.

Live Blitz Blackjack (99.50% RTP) – NetEnt
Introduction to Blitz Blackjack Live 
Blitz Blackjack       is the former Common Draw Blackjack that NetEnt renamed in 2018. However, the name change is only the start of improvements within the game – Blitz received a well-deserved full makeover. Upon its re-release, the game became an instant success and quickly turned into a favourite go-to option for many players.
How to Play Blitz Blackjack
Playing this game is not different from the standard version. Thanks to increased scalability, an unlimited number of players can join the table, which is how the game is so fast. Rounds are quick, hence the name "Blitz".
Its biggest charm lies in the eight decks that dealers can shuffle both automatically and manually. This is a very volatile game with 99.50% RTP. Inside this game, you may use only two side bets – 21+3 and Perfect Pairs.

Speed Blackjack (99.26% RTP) – Evolution Gaming
Introduction to Speed Blackjack
In 2018, increasing the speed of rounds became a trend. Two problems existed – the pace of the game and the limited seating area. With increased scalability, tables became hubs for infinite numbers of players. One additional benefit of such innovations was the increase in pace. Players' rounds lasted shorter, so the experience was livelier and more exciting. Speed Blackjack, one of Evolution Gaming's top releases is precisely that – a game of superb performance that provides quick entertainment. This variant is the predecessor of tables with infinite numbers of players.
How to play Speed Blackjack                      
The rules for this variant are not that different from other games on the list. However, the only thing that makes the game truly stand out is the method of dealing cards. Namely, the rounds commence in the usual way: players place bets, and the dealer deals the two initial cards to all players regularly.
However, the moment of choosing the action – Hit, Stand, Double or Split – decides who gets the next card. The fastest player to select his move gets the cards first. This way, the pace of the game is always quick, and there is no waiting for the players before you to make up their minds. The variation is 30%-40% faster than any other release from that year.

Unlimited 21 Auto Split Blackjack – RTP – Ezugi
Introduction to Unlimited 21 Auto Split
Ezugi and its ambitious releases never cease surprising us. Every year, the provider releases several never-before-seen games that push the boundaries of gaming. The Unlimited 21 Auto Splits precisely that – a game that revolutionized the live dealer sector.
How to Play Unlimited 21 Auto Split
The round begins with the player choosing the bet amount. After players finish placing bets, the dealer deals only two cards for the Player. The capital P stands as an indication that the dealer doesn't deal cards for each player separately. On the contrary, everyone gets the same cards dubbed the 'player's cards. But here is the twist – each player has a chance to pick his action based on the received cards. That way, every punter gets to employ his strategy without affecting the others.
Another thing that is unique to this game is the automatic split. Should you receive a pair (of any value), it will be automatically split into two hands. The optimization, according to the best strategy, is useful because players with low skills can enjoy the game as well.
3 Things to Understand About Blackjack Variations
Different rules and ingenious features are significant; we can all agree. Each game today has something unique. But that doesn't mean you have to start over with each new table. The skill that you have from previous games is, for the most part, applicable in all aforementioned releases. However, there are several important facts to remember before you start playing.
Side bets lower the RTP and increase the house edge.
For some players, side bets are a fun way to increase their winnings and enjoy the game more. However, not many players are familiar with the fact that side bets increase the house edge. Hence, blackjack variations with several side bets typically boast lower RTP (return to player). And lower RTP translates into higher house edge, i.e. more money that stays at the casino.
Although there are several blackjack variations, not all of them are available in all casinos.
Innovative releases diversify the casino's live portfolio. However, all operators aim to find a balance between abundance and monopoly. To put it simply, they do try to offer as many games as possible but steer clear from including them all. That is especially true for variants with low house edges that give the players a more significant advantage.
Casinos offer exclusive games that are available only in their lobbies. 
Exclusivity attracts customers. The wealthier the studio, the more high-end customers will visit and play there. Furthermore, proprietary titles that exist only in a specific venue are an excellent way to attract players. Hence, it is not rare to find games that providers launched via an exclusive deal with some casinos. If you see such games appealing, bear in mind that you can play them only at those casinos.
Summary
Innovation is a necessary process for providers that want to stay in the game. Blackjack has evolved over the years, and we have the technology to thank for the bigger part of that growth.
However, we could say that these improvements have significantly expanded the scope and reach of live blackjack scene. Today, more players enjoy playing games via their computers that connect them to land-based casinos. The experience that live casinos offer is unmatched.
Still, there are disadvantages. They are great for entertainment, but card counters won't get as lucky as with regular versions. For instance, we have explained that many blackjack variations entail card shuffling after each round. That makes it harder for the players to find loopholes and increase their advantage.
Nevertheless, if you want to become better at playing Blackjack, our advice is to keep playing. The rules are not complicated, even though each variant offers something inherently unique. To speed up your progress, you can follow the tips that we collected for you here. And once you become satisfied with your proficiency, try out the blackjack variations that you have met above.