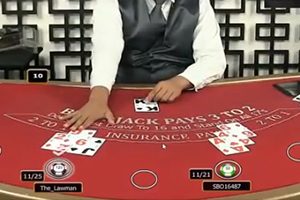 "Am I being taken for a ride?" is perhaps the first question on anyone's lips before joining a Live Table at an online casino, and definitely one you will be asking yourself after falling into a losing streak. The answer that you probably dread is that theoretically, there is always a possibility of being cheated in an online casino. It can happen through a rigged software, simulated stream interruptions or simply by employing old-fashioned tricks that require quite a lot of speed and skill.
The answer you were hoping for is that, although possible, cheating at online Live Casinos is extremely rare and often misconstrued. Sometimes, what was interpreted as an act of deception could be a simple mistake or the lack of focus, which, although unacceptable, are far from cheating.
Objectively speaking, chances of operators using dishonest methods to gain an advantage over their players are slim. Online casinos are subjected to a string of legal regulations that they have to meet before gaining the licenses. In addition to that, the table is usually shot from multiple angles and any suspicious action would be caught on camera. A lot of Live Dealer platforms offer the replay feature, so you can immediately re-watch the video to make sure if anything fishy took place.
Recent Incident at the Blackjack Table
On the other hand, we are forgetting that different online casinos or software developers have different business ethics – specialised websites with casino reviews exist for a reason and they are not afraid to call out or even blacklist a casino if any of their business models are not up to standard.
Also, it has to be mentioned that not all online casinos are licenced by the same regulatory authority. Coincidentally, one of the most infamous cheating scandal known to the general public took place at the BetOnline casino, which carries a Panama licence, known for low fees and limited regulations. Online casinos with the highest ranking are usually regulated by UK Gambling Commission and Malta Gaming Authority, each with a strict set of legal requirements that have to be met before a casino receives their stamp of approval.
The incident mentioned above happened at the Blackjack table, where the dealer was caught on camera pushing back the top card from the shoe and drawing the next card in line instead. This resulted in the dealer (house) winning the round. Had the cards been pulled in their natural order, the player would have won.
Not a lot of people were convinced that the video was actually a proof of a blunt act of cheating and many assumed that the incriminating motion was accidental or even unconscious. However, the player advised that he had reported the incident, without ever receiving any explanation or a formal apology from the casino representatives – let alone the compensation for the lost bet.
What to Do if There is Reasonable Doubt?
The first thing to do is to make sure you are playing at the reputable casino regulated by the top-notch authorities and with an impeccable user ranking. The likelihood of a serious operator rigging the game or encouraging their dealers to cheat in any way is nonexistent. If detected, it could result in severe legal consequences, including licence suspension.
Another way to protect yourself is to record the entire playing session, which you can use in case you need to file a formal complaint against a casino. The same recording can be used as an evidence and inclosed with the report sent to the licence issuer, posted on social media, or emailed to the administrators of relevant forums.