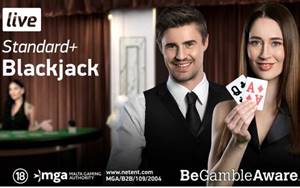 World-leading live casino and solutions provider NetEnt has launched 3 new releases.
The Stockholm-listed live gaming company has many surprises coming just in time for the holidays.
Blackjack Is the Game
Let's remind ourselves, in November, NetEnt unveiled the hot new Blitz Blackjack. This December, you can expect a trio of immersive and thrilling live dealer titles.
So far, you must have played the following live casino numbers:
Now, get ready for even more fun. And Blackjack seems to be the game of the month.
As we have said, NetEnt has integrated three more tables into its mesmerizing live casino offering. They are two VIP Blackjack tables, as well as the spanking new Live Standard+ Blackjack. That means even more excitement and immersion for you all.
NetEnt and Blackjack
The Swedish online casino supplier has mastered the skill of manufacturing Live Blackjack. There are dozens of Blackjack variants in NetEnt's live games arsenal. With the three new tables, we expect nothing short of perfect.
Players have been asking for the new additions for quite some time. And as we know NetEnt, they always obey the clients' wishes.
Now you can play your favorite live casino game – Blackjack, on three fresh tables.
The new Live Standard+ Blackjack from NetEnt is similar to NetEnt's Perfect Blackjack Live. More details and freeplay mode are yet to be released by the developer.
As far as the NetEnt ft. VIP relationship goes, things are just as shiny. Other than the ultra popular Live Roulette, the live dealer creator boasts multiple VIP Blackjack tables. Now, with two more VIP tables, the company expects players to be blown away. Make sure to check out the new tables at any NetEnt powered live casino.