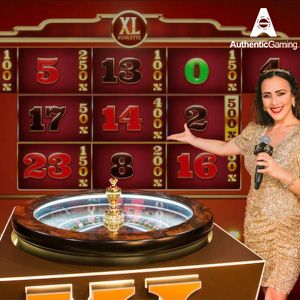 Authentic Gaming has announced the biggest innovation in live roulette to date, XL Roulette.
Players in Control
XL Roulette has taken inspiration from the hugely successful Lucky Number game show format pioneered by Evolution. While the game features this format, Authentic Gaming added several new twists. The provider promises to deliver vastly improved player experiences.
XL Roulette, which is streamed from Authentic Gaming's live broadcasting studio in Malta, puts the player in the driving seat. It allows them to influence how many numbers will be "Lucky" during the next spin. They can choose from XL (up to 5 lucky numbers), XXL (up to 8 Lucky numbers), and XXXL (up to 11 lucky numbers).
All lucky numbers payout between 50x and 500x. However, players who like the game show format but prefer traditional roulette can simply switch to standard mode. This ensures the game appeals to all types of players. The 35:1 ratio of hitting numbers will attract The Traditionalist. Meanwhile, the In-Betweener will enjoy the classic format but with larger payouts.
Then, you have the Thrill Seekers and big-win hunters. They can pay to boost their chances of landing massive payouts with Lucky Numbers covering almost a third of the roulette wheel.
XL Experience
Jonas Delin, Founder & Director of Authentic Gaming, spoke about the new product. 
"XL Roulette takes the underlying mechanics of the most successful live casino game format and makes it even better." It is thanks to their player-first approach to development.
The game has a beautiful backdrop and the most engaging and entertaining presenters in the industry. So, the player experience offered is "absolutely unrivaled."
"The real excitement and thrill of this game format are the large payouts associated with the lucky numbers. We are confident players will love that they can get up to 11 lucky numbers in a spin with XL." Since they are used to only getting up to 5 with the competition.
"We look forward to seeing XL Roulette land in operator game lobbies and for players to enjoy the thrilling experience it has to offer."