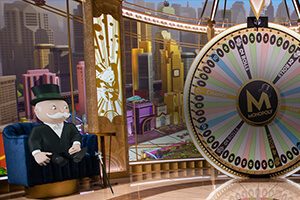 Within a two-year period, Evolution Gaming launched two live dealer games based on the Money Wheel. They are Dream Catcher and Monopoly Live. While they share some features, they are two completely different games. That's why we have decided to discuss similarities and differences between them so that you can choose which one suits you best.
Game Basics and Design
First of all, both games use the big Money Wheel and they are operated by a live dealer, or rather, a host. Visually, both games look like a TV show with a betting layout offering six possible betting options. Practically, this is all when it comes to the features Dream Catcher and Monopoly Live have in common. The betting layouts in both games reflect the positions on the wheels offering players multiple options to place their bets on.
Live Dream Catcher offers a betting layout featuring 1, 2, 5, 10, 20 and 40. These are multipliers applied to your stake in case the pointer stops on the option you have placed your bet on. As for Monopoly Live, the player can bet on 1, 2, 5, 10, 2 Rolls and 4 Rolls. Betting and payouts will be explained later in the text.
While both games are set in luxurious studios and boast an eye-catching design, Monopoly Live has an improved appearance thanks to a 3D element added to it. As you play the game, you will see animated Rich Uncle Pennybags sitting comfortably and reading the newspapers or sipping his tea on the left-hand side of the wheel. You can expect to see him in action once the Monopoly-related features get triggered.
Betting and Payouts
We have already described the betting layouts in both games. Now we want to present you major differences between Dream Catcher and Monopoly Live when it comes to the gameplay. Both games start with a player placing a bet on the selected segments.
In Dream Catcher, the wheel features 54 positions out of which 52 are the numbers 1, 2, 5, 10, 20 and 40. The other two feature a 2x and 7x multiplier. If the pointer stops on the number you have wagered on, you receive your original bet multiplied by that number. However, in case it stops on one of the multipliers, the dealer will spin the wheel again. The outcome of the round is determined by the number the wheel stops on with the multiplier applying to the total amount you win.
Monopoly Live differs from Dream Catcher in positions on the wheel. Out of 54 positions, 48 are simple numbers 1, 2, 5 and 10. Then, you have two Chance, three 2 Rolls and one 4 Rolls positions. We won't explain simple numbers as they work the same way as in Dream Catcher. However, if the pointer stops on Chance, players will receive a random cash prize or a random multiplier up to 10x that will be applied to the win from the next spin of the wheel. If another multiplier lands, these two values will be multiplied. Rich Uncle Pennybags will reveal the value of a random prize.
Bonus Game
While Dream Catcher consists of the base game only with multipliers being its biggest attraction, Monopoly Live is all about the bonus game. For a chance to trigger it, you need to place your bet on a 2 Rolls or 4 Rolls segment. Once the wheel stops on one of them, Mr Pennybags leaves his chair and takes you to Monopoly City where you will move around the board while the dice roll 2 or 4 times.
The bonus game functions by the rules of real Monopoly meaning that you can win additional dice rolls when they show doubles. What's more, Uncle Pennybags will place houses and hotels on random positions on the board thus adding multipliers. When the bonus game ends, you win a payout worth your total bet multiplied by the biggest multiplier. A maximum possible payout you can win in the bonus game is capped at €500,000.
Now that you know the main similarities and differences between Monopoly Live and Dream Catcher, you can visit Mr Green and give the game to your liking a try!