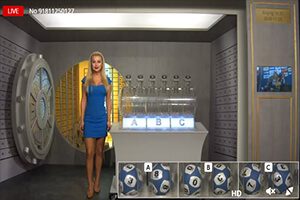 We typically discuss table and card games available at live casinos.  This article is an exception to this rule. It will deal with an unorthodox live dealer game called Lucky 6 you can play at BetGames-powered live casinos. Along with other two games, Lucky 5 and Lucky 7, Lucky 6 is a lottery-like game hosted by a real-life dealer you can play online or on the go. What makes this game stand out from the crowd is a range of betting options it offers. It may seem a bit overwhelming, so stay with us to learn more about betting options and payouts.
Bets and Payouts
The game is based on 60 balls that are drawn by a machine. Every time, 6 balls are drawn at random. Payouts range from 1.01 to 90 depending on their complexity and odds. Once you enter the game, you can choose multiple betting options on a slip and wager up to 100 chips. Before we move on to the payouts, you should know that balls are numbered from 0 to 9 and come in red and blue. They can fall into three zones – A, B, and C.
There are five types of bets you can place. They are numbers, counts, colours, odd/even or total sum. Let's start with numbers. This is easy. When you play number bets, you predict if a selected ball will be dropped in the A, B or C zone. If you guess correctly, you will get paid 5:1. You can also bet on that the lucky balls will form a select two-digit number in one of the zones. This is the riskiest bet that pays 90:1.
With count bets, you guess if the count of lucky balls with the chosen number from 0 to 9 will be more than 1.5, less than 1.5, even or odd. Depending on your bet, you can get paid from 1.07, 8.30, 1.50 or 2.55. The bet that pays best in this category is the one with which you guess if the count of lucky numbers with the chosen ball will be over 1.5.
When it comes to colour bets, you can place your bet on the sum of the numbers of red and blue balls that is under and over 12.5 and under and over 13.5. While the first two options pay equally 1.90, if you place your bet on the sum of the numbers of red lucky balls under 13.5, you will win 1.85. Betting on the sum of the numbers of red lucky balls can earn you 1.95. You can also predict if sums of the numbers in the zone A, B or C will be under or over 9.5. All bets predicting that the sum will be under 9.5 pay 1.72 while those guessing that the sum in a certain zone will be over 9.5 pay 2.10
With odd or even bets, you can guess sums and counts of even or odd lucky numbers. If you try to predict whether the sum of the numbers on the lucky balls will be even or odd and your bet wins, you will earn 1.90 in both cases. Placing bets to predict if the count of even or odd lucky balls will be under or over 2.50 can earn you 2.75 or 1.45 respectively. All bets on even or odd sums of numbers in the zone A, B or C pay equally, 1.90.
Finally, you can place your bet to predict if the sum of the numbers of lucky balls would be under or over 26.5, under or over 15.5 and under or over 38.5. Bets on the sum under 26.5 pay 2.00 while ones guessing that the sum will be over this value pay 1.80. The sum bets that can earn you the most lucrative prizes are those predicting that the sum of the numbers will be under 15.5 or over 38.5 and they pay 18. If you are not that into taking risks, you can place your bet that the sum won't be under 38.5 or over 15.5. These bets pay only 1.01.
Closing Thoughts
If you like lottery-like games and you are looking for some real casino action, Lucky 6 may be a perfect fit for you. Thanks to multiple betting options with payouts going up to 90:1, the BetGames offering can provide you with an exciting gaming experience. Keep in mind that the game can be played in real-money mode only and that you have 5 minutes to make your decisions.