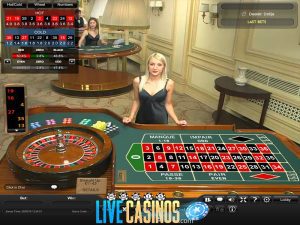 You want to play live casino games but you don't know where to begin? How do you approach live dealer games and what can you expect from them? Undoubtedly, you can expect high quality casino experience, especially when you have the industry's finest, such as Playtech or Evolution Gaming, delivering the most exciting table action through screens of any size for your pleasure. But, let's step closer and analyze two of the most popular casino games, compare them and point out the most important differences and similarities, so you could have this information in mind the next time you start devising a live casino game plan.
Let's say you like casino games and have great respect for both roulette and blackjack, two of the most popular games, games with rich history that keep entertaining players to this day. The most modern way you can play roulette or blackjack today is from home, on your laptop or smartphone, enjoying the company of real croupiers, mostly beautiful young women, willing to chat with you if you happen to be in the mood for it.
Live Roulette vs. Live Blackjack
How do these two casino experiences compare? Well the obvious similarities and differences are the facts that both are accompanied with live dealers and streamed in real time out of actual gaming studios or casino floors, while blackjack is a comparative card game and roulette is a game that involves a spinning wheel and a little white ball. Now, looking at both games objectively, Live Roulette may be the game that requires a little less involvement from the player. Most of the time gamblers rely on luck, as every spin of the wheel is completely random. Sure, there are some trends in roulette gameplay concerning bet placing that would favor the player in certain circumstances, and of course the fact that it is always better to choose the roulette version with fewer slots on the wheel. But when it comes to Live Blackjack, the game becomes a bit more engaging. Blackjack players have numerous so-called 'blackjack strategies' at their disposal that, if studied and applied in proper ways, could improve their odds and reduce the house edge.
Both games offer a truly remarkable experience. The ambiance of a traditional brick and mortar casino is transferred to your places of comfort and you can relish in observing the dealers spin the actual roulette wheel and deal actual cards from a real deck, thanks to a crystal clear video feed. We're talking about convenience at a highest level. If you are keener to dynamic gameplay, then you might enjoy Live Roulette more than Live Blackjack. The fact of the matter is when you play Live Blackjack and there are a lot of players online at the same time, playing by your side – that could slow down the pace of the game and result and a slightly irritating session.
A Look at the Odds
Many players rely strictly on statistics as guidance through their casino adventures, and even though that shouldn't be the only thing to care about, it is one of the most important aspects. You do invest your money into the game, and it is only fair that you know how much you can expect in return. The numbers tilt the scale on the side of Live Blackjack. The house edge at Live Blackjack tables is 0.5% on average (from 0.486% to 0.695% depending on the website), while at Live Roulette tables you can expect a house edge of 2.7% for European Roulette and even 5.26% for American Roulette.