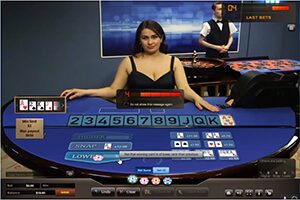 There are not many games offering as simple rules and gameplay as Hi-Lo. It doesn't require any special skills. All you have to do is to guess whether the next card will be higher or lower than the one on the table. Because of that, the game may seem attractive to beginners. In this article, we will discuss if Hi-Lo is a perfect game for beginners or should they skip it and try a more complex game with better odds of winning.
Rules and Variants
Playing Hi-Lo is as easy as it gets. One card is placed at the centre of the table face-up and players place their bets trying to guess the value of the next card. They can bet on a specific card or Red, Black, Higher, Lower or Snap. Payouts depend on the bet you have played with a Snap bet granting the biggest prize of 12.06x your bet. By placing a Snap bet, you predict that the next card will be of the same value as one on the table. The lowest payouts are awarded when you play a Red or Black bet and they are 1.92x your bet. When you play an Ace bet, you can win 11.56x the bet amount.
The game has been available at live casinos powered by Playtech since 2015. So far, this is the only Hi-Lo table you can join at live casinos on the web. A betting range supported at a table ranges between $1 and $1,000, which is suitable for both beginners and high rollers.
Why Play Hi-Lo?
It is all about luck when it comes to Hi-Lo. There are no moves you can make or strategies to apply that will make you more successful while playing this game. That means you can win or lose, there is nothing you can do about the outcome of the game. If you think that you could remember the cards, you are wrong since three cards before each base card are always "burnt".
According to the provider, the game's RTP is 96.45%, which is pretty high. The betting range supported by the game is wide and allows all kinds of players to take a chance on it and win to 12.06x the bet. On top of that all, the game is operated by a real-life dealer making sure that you feel like you play the game at a brick-and-mortar casino, which adds to the overall impression you get.
Should Beginners Play Hi-Lo?
It is true that HI-Lo does not require any special skills. No complex rules, charts or strategies to remember. Just join a table and place your bet on what you believe the next card will be. It really sounds like a piece of cake. Yet, what you should keep in mind is that just like other live dealer games, Hi-Lo is also available only in real money mode. You cannot play it for free to see if Lady Luck is on your side or practice. Once you join the table, you have to place a real-money bet. The betting layout is comprehensive and you can choose which bet you will play without difficulty.
It may be one of the most straightforward games available at live casinos, but we cannot recommend playing it as it can be highly volatile. Players' decisions cannot affect the gameplay in any way and we don't believe in games based on pure luck. If you are a beginner, we suggest you choose any of skill-based live dealer games. Spend some time playing them in their RNG-operated version making use of free play mode until you learn the basics. Then, you can start learning a proper strategy which can help you make decisions that can help you get an advantage over the casino and beat the house.