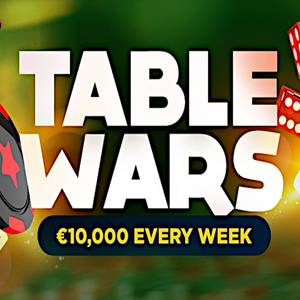 Do you spend a lot of time enjoying casino table games? Are you looking for a venture that will appreciate your time, effort, and loyalty as a customer?
Well look no further – the BitStarz casino's latest promotion, dubbed Table Wars, will read their most active and ambitious users. Let's see how it works.
Play More, Win More
Casino game tournaments are promotional events as old as online casinos themselves. Bitstarz, for its part as one of the world's leading crypto casinos, is famed for the so-called Slot Wars. This player-vs-player showdown is all about fans of online slots competing to see who can win the biggest payouts over a 7-day period.
That said, slots aren't really our jam. Not here at LiveCasinos.com, that is.
Thankfully, there's something exciting for us, too.
All customers with at least one deposit in the casino can participate in the Table Wars. The gist is simple – use your funds to bankroll both live and RNG-based table games. The more you spend, the better you'll rank on the event's standings.
Once per week, the 40 best-placed players get to share a $10,000 prize pool.
The Details
One round of Table Wars lasts from Monday morning to Monday of the following week. The total prize pool is divided so that the top-ranking player gets a massive $3,000 cashout.
The remaining 39 participants receive prizes of decreasing value, ranging from $1,000 for 2nd place to $25 for 40th.
Only real money wagers contribute towards the standings. However, any prizes you earn are yours to do as you please. That's right – no wagering requirements need to be completed before you withdraw the cash. That's music to our ears!
Exciting, right? Register for BitStarz now and prove you're the best table player there is!
18+ Only. Full and promotional terms and conditions apply.
Please gamble responsibly.