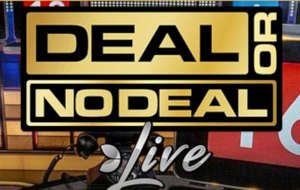 Celebrate the launch of Deal or No Deal Live with Mr Green online casino and win a share of any of the 3 weekly Prize Draws worth €5K.
After the three weekly prize draws finish, you can participate in the Grand Prize Draw with a prize pool of €20,000.
Sweet, right?
The Deal
Play Deal or no Deal Live with a €25 bet and you will get 1 ticket for the weekly prize draws.
The number of tickets is not limited, so you can play and collect as many as you can, solidifying your chances of winning in any of the prize draws. The three weekly draws have each a promotional week.
The first week lasts from May the 9th until May the 15th. The second begins the next day, on May the 16th. It will last until midnight of May the 22nd. Third and final promotional week lasts from May 23rd until May the 28th.
Prize draws are conducted right after the end of the promotional period, and 20 random winners will be credited their rewards within the following 72 hours.
The Best Part
These draws already sound delicious, but the main deal is yet to be discovered.
The Grand Prize Draw will be conducted after all three promotional weeks end, and the main prize pool? It's €20K!
To participate in this part of the promotion, you simply need to bet €100 in the chosen Deal or No Deal Live, and you'll get exactly 1 ticket for the draw. Once again, the number of tickets is not limited, so play away and collect your entry tickets – you might land some big prizes!
The prizes will be credited as in the weekly prize draws, 72 hours after the draw.