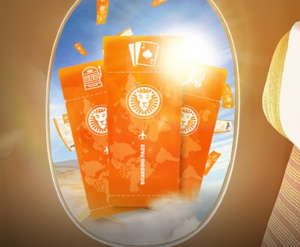 With the summer getting closer, LeoVegas casino decided to treat its players by dishing out 280 flight vouchers, all you have to do is keep playing!
In order to participate in the "Get ready to take-off" promotion and become one of the 70 players awarded with a €200 flight voucher this week, all you have to do is make a deposit.
Depending on how much you deposit you can collect up to seven tickets during the same week.
The promotion period will run from 12:00 CEST on Monday (May 13th) until 23:59 CEST on Sunday (June 9th). Real money deposits via any device (desktop, mobile tablet) will get you qualified for this promotion.
It all depends on your accumulated deposits made during the same week. Accumulated deposits ranging from €20 – €49 will give you a chance to win one ticket, from €50 – €99 offers you a possibility of winning three tickets, and €100+ will get you a chance of collecting seven tickets.
Promotional weeks:
Week 1: 12:00 on the 13th of May to 23:59 on the 19th of May.
Week 2: 00:01 on the 20th of May to 23:59 on the 26th of May.
Week 3: 00:01 on the 27th of May to 23:59 on the 2nd of June.
Week 4: 00:01 on the 3rd of June to 23:59 on the 9th of June.
It is important to remember that tickets cannot be carried over to any other promotional week.
Every Monday after a promotional week, a random draw of qualified players will result in 70 winners, who will each win a €200 flight voucher. Those winners will receive the voucher details via SMS or e-mail.  The winners must activate their vouchers with Flightgiftcard by 1st of August 2019.
Just make sure visit LeoVegas casino today and select 'Yes to Communication' in your profile settings if you wish to be eligible to receive any of the listed components of this promotion, and you are ready for take-off!