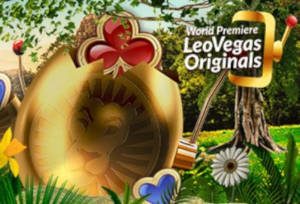 Easter is just around the corner.
The celebrations that accompany one of the happiest holidays are in full swing, and LeoVegas has something for you – Easter Egg hunt!
Well, you won't be searching for eggs exactly, but for cards depicting eggs that carry cash prizes up to €150. Piqued your interest? Read on.
Colourful Eggs
There are three types of eggs to look for, or rather, three colours. Bonus cards can come in purple, teal, and gold, and each colour represents a certain cash amount which you can win.
To win the Bonus, you'll need to collect three cards of the same colour.
A set of three teal bonus cards will yield a €25 bonus, while 3 purple cards bring €50. The biggest bonus comes from the golden cards in the amount of €75.
The Starting Point
The designated location for the Bonus hunt is the exclusive Blackjack subsection in Live Casino. Or more precisely, ChambreSeparee tables.
The promotion lasts until May 2nd, and each day players can win any of the three bonus variations.
However, the promotional period is split into 3 weeks. Each promo week starts on Sunday and ends on Thursday, meaning that the second week is going to start on April 21st, while the last week of the promotion officially begins on April 28th.
It's important to note that each coloured Bonus card can be found at specifically outlined tables:
The teal cards are found at tables where the minimum bet is €5, and those are
LeoVegas Live Blackjack 2,
LeoVegas Live Blackjack 4,
Leo Blackjack Show, and
LeoVegas Danish Blackjack.
Purple cards are at tables with minimum €10 bets:
Celebrity Blackjack Party,
LeoVegas Live Blackjack 3,
LeoVegas Sports Blackjack.
Finally, golden cards are found at tables with minimum €20 bets, and those are:
LeoVegas Live Blackjack 5
LeoVegas Live Blackjack 6
Players can obtain only one Bonus per promotional day. Playing outside the promotional period will not count in for the Bonus.
What are you waiting for? Go say 'Yes' and join the colourful Hunt!