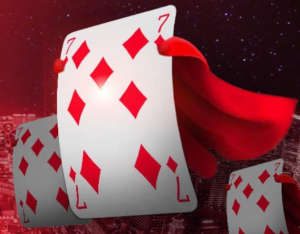 In the spirit of number 7, we are heading to BetOnline Casino today!
The only task at hand is to play Blackjack at this casino's live dealer department.
If you are devoted enough, you will benefit from one out of three Diamond Super 7's Progressive Jackpots!
Here's how It's Done
In order to qualify for the mega wins, you need to place a $1 side bet before the hand commences.
In case you get a 21 with three 7's, you will be heading home with a massive smile on your face.
There are three gargantuan rewards up for grabs:
Grand Prize
Midi Prize
Mini Prize
To benefit from the Mini Prize, fathom three 7's of any suit, and you will scoop $100. Next up, if you collect three red 7's, you will win $1,000.
Finally, for the Grand Prize, make sure to assemble three 7 of Diamonds, and the entire jackpot will be yours!
It's got to be someone – it had better be you!
A Little Heads Up
The following rules need to be obeyed to qualify for the 7-7-7 jackpot:
You need to play the $1 side bet.
Promotional chips will not qualify.
Only the first 3 cards of your hand qualify. Splits do not.
In addition, the general Terms & Conditions (T&C) apply. As per usual, you need to be of the legal age or above to be able to take part in the campaign. Please gamble responsibly. Keep track of your bankroll.
Once the review of the results has taken place, the Grand Prize will be credited to the winners' BetOnline Casino accounts. The Midi and Mini will be credited immediately.
Good luck!