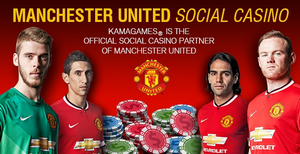 Manchester United has recently teamed up with Kama games to provide some more entertainment to their fans. This time they have gone a step further and in cooperation with KamaGames launched an online casino.
This new and interesting partnership will bring to Manchester United fans a range of social casino games such as social poker, roulette and blackjack games available for playing on both desktop and mobile versions. They kept in mind the increasing popularity of mobile casinos so players will be able to access it on facebook, download the application from iOS App store or Google play and it will soon be available for windows phones as well.
KamaGames is globally known for developing these kinds of games and they can boast with over million players daily. Surely, the base of 659 million Manchester fans presents a fine addition to their existing target audience. The social casino will feature Manchester United theme, logo and imagery. The players will have many opportunities to win all kinds of rewards including sports equipment, match tickets and many more.
The partnership is sealed with a multi-year contract and here is how Manchester United Group managing director Richard Arnold views this partnership: "KamaGames and their innovative products will allow us to do this in new and exciting ways. We are delighted to welcome them as our first official global social casino games partner and look forward to creating a successful partnership for many years."
According to Kama chief executive Danny Hammett: "KamaGames and Manchester United share a similar worldwide audience, and with this in mind, we are confident that the partnership will be a huge success for both organizations. We are proud and honored to be associated with such a great team and iconic brand and we look forward to building a strong relationship with the club and its fans."
About KamaGames
Seated in Dublin, KamaGames are a global developer and publisher of social games for mobile, online and console platforms. Their games have reached a worldwide audience of over 70 million. They also have offices in the US, Russia, Dubai and Asia.