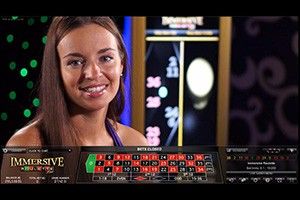 Evolution has won the EGR Game of the Year award just recently on the multi-camera roulette online game that they provide for all of their players. This will be their tenth year winning the award, and they couldn't be more happy or proud of the outcome.
Everyone on the team has worked hard, put in long hours and have tried to make the most of the gaming experience that you're able to get from home. Not only does this mean making the casino games you play online as real as possible, but they have actually set up live dealers, real cards and real games right there in front of you so you're able to interact with them and actually be immersed in the game itself.
Every game that is played is done in real time, so you do not miss a thing and you have that real live action right there in front of you. Many casinos have tried to do the same feel as this type of casino, though, Evolution seems to come out at the top every year.
Be able to get a close up view of the action, and then once the play is over, they do a play by play slower actioned shot of what happened. Many people do not have to leave home to have the interaction that they love when playing the games within the actual casino setting, which is a big step forward for not only the technology that powers these live games, but also for the gaming industry that provides them.
The managing director really believes that their live roulette game gives the 'wow' factor that so many players are looking for across the Internet. In more ways than one, they games win you over and allow you to sit back and actually enjoy the action. They are high quality, premium gaming experiences where you're able to get the interaction, get the real time gaming and no longer have to worry about glitches that may or may not come with some of the other graphic based games on the market.
To get better familiarized with the game, you can read our comprehensive review of Evolution Gaming's Immersive Roulette. There you can also find which casinos to join to play this award winning live roulette game.