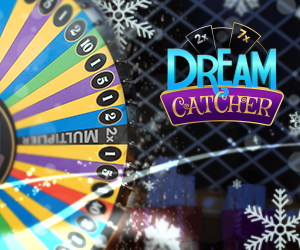 The leading developer of live casino solutions – Evolution Gaming – is ready for Christmas!
The festive season is gaining pace and the iGaming industry is already racing towards it in full speed.
With plenty to look for this winter, Evolution Gaming has decided to treat its customers to a special Dream Catcher Winter Wonderland.
Dream On, Dreamers…
The company is keeping a low profile on the winter edition of its highly popular product.
There is not much players will find out in a 30-second video. However, this teaser will be more than enough to tickle everyone's imagination.
Classic Christmas tune is setting the joyous tone right, while the snowflakes are making it a proper wintery edition.
A Santa-like dealer with snow-coloured beard and an appropriate hat on his head is spinning the wheel, whereas a mountain of gift boxes sitting in the background will be enough to slap your jaw against the floor.
Catch Your Biggest Dreams!
Already an Evolution Gaming flagship brand, Dream Catcher needs little introduction.
A large money wheel, operated by a live dealer and a game with simplest of rules, promises great amounts of fun and prizes.
Placed inside a state-of-the-art multi-camera studio, Dream Catcher is a sight to enjoy. Players will have plenty of fun picking the number they think the wheel will stop at.
With 2x and 7x bonus spin multipliers on offer as well, Dream Catchers offers great potential for super-sized payouts.
As we anxiously await the Christmas edition of the game, it's easy to understand why the special edition of Dream Catcher – MONOPOLY Live – has been chosen as the Game of the Year at the annual EGR Operator Awards in London just recently.