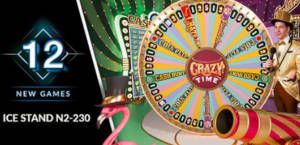 Evolution Gaming, a leading provider of Live Casino solutions, has just made a huge statement.
At this year's ICE that took place in ExCeL London, from 4th to 6th February 2020, the company showcased no less than 12 new games!
What's to Come?
The full line-up "honours the casino classics while leveraging the newest technological and Live Casino studio innovations to appeal to a broader spectrum of player types than ever before."
The 12 new Evolution releases are as follows:
Crazy Time
Mega Ball
Craps
Instant Roulette
Power Blackjack
Lightning Baccarat
Speed Blackjack
5 new First Person games: Craps, Baccarat, Football Studio, Dragon Tiger and Mega Ball
———-
Todd Haushalter, Evolution's Chief Product Officer, explained that all new games are built on three pillars.
Firstly, there is "a sharp focus on evolving core games such as Roulette, Blackjack and Baccarat so that they have appeal to the next generation of players."
Secondly, they are "continuing expansion of the addressable market for Live Casino with their boldest game shows yet."
And thhirdly, the company wanted to deliver "a world-class suite of bonusing tools with which to promote their games."
Something to Suit Everyone's Taste
Haushalter further stated the company has been hard at work for the last year creating what he think is Evolution'sbest game line-up ever.
"We are making the core games more fun; we are enhancing games to make them more relaxing and comfortable to play."
Among other titles on the list, Crazy Time is being lauded as the "craziest, most bonus-laden, game show ever."
"Personally, I think Crazy Time is the most fun casino game ever created and I can't wait for it to be live," Haushalter said.
He also highlighted Mega Ball as another key breakthrough game.
"This is a lottery/bingo-style game that we hope will again open up Live Casino to yet another new group of players. There is truly something for everyone in our 2020 roadmap", Haushalet concluded.