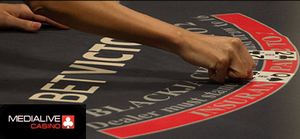 It seems that online casino operators and bookmakers BetVictor are more than satisfied with the cooperation with Medialive, as they are extending the contract for another three years. This means that Medialive will remain in the group of three other BetVictor's live casino providers: Evolution, Net Entertainment and Microgaming. The new live casino will be streamed from Medialive Maltese studio.
Two years ago BetVictor and Medialive have entered a partnership to launch a Gibraltar-based in-house casino. It included Live Roulette, Blackjack and Baccarat tables all in high definition technology with the option of multi-game view which made it possible for the players to play up to four tables at the same time. BetVictor hired the dealers while Medialivecasino were in charge of technology and live operations. Now after two years, Andrew Dymock, BetVictor's Head of eGaming concludes: "We have found over the last couple of years just how popular the Medialive HD product is with our players and are delighted to sign the new agreement to offer their exceptional Live Casino product on both desktop and tablet. We are looking forward to some exciting new desktop and mobile products being delivered in the near future."
The extension of the successful cooperation will be characterized by a slight change. The parties have decided to make a slight shift by turning to third-party live casino providers and shutting down the in-house live casino. The new live casino will be based in a studio in Malta. Angelo De Gobbi, Marketing and Sales Director of Medialive did not hide his excitement: "It has been a pleasure to work with BetVictor during the past two years and we are now very excited to start offering them our Live Casino games from our Maltese studios. Our target, with this new integration, is to provide the same high quality products at fantastic value to BetVictor." The new live casino will be based in a studio in Malta. Medialive will continue to provide their latest technology and experience in the live gaming, as well as offer new exciting products which will be available for both desktop and android platforms.
About BetVictor
The story of BetVictor dates back from 1940s and since then they have slowly built a name that is now a leading bookmaker and online gaming operator in the UK. They started with sports betting which they put on a higher level with the introduction of online sports betting. Naturally, this lead to adding online casino and poker which saw them expand even further. Soon, they realized in which way the trends of the industry are moving so they introduced Live Casinos to their offer and now they offer four live casinos: Victor's Live Casino based in Malta, BV Grand in Latvia, Club Victor, which streams live from Canada and Victor Royale also streaming from Malta.
About Medialivecasino
Medialivecasino started operating in 2005 and since then they have become one of top providers of online gaming solutions. Their extensive knowledge of internet technology and a ten-year experience makes them experts in developing high-quality platforms for live streaming games from their studio in Malta. Their offer includes live roulette, blackjack, baccarat and the new texas hold'em live poker, as well as a range of virtual games such as videopoker, slot machines, skill games.