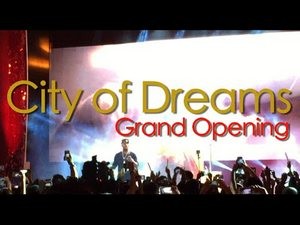 After a spectacular announcement of the opening of a new gambling resort featuring Hollywood stars Robert De Niro, Leonardo Di Caprio in an advertisement directed by Martin Scorsese, gambling dreamland "City of Dreams" has finally had its opening in Manila.
Melco Crown Corporation co-owned by billionaires Lawrence Ho and James Packer have finally brought a $1 billion top-class resort to the Philippines. City of Dreams Manila hosts six hotel towers, including Crown Towers, Nobu Hotel and Hyatt accompanied by luxurious restaurants, bars, gaming rooms, etc. As for entertainment, this world-class resort offers nightclubs Pangaea and Chaos for night owls and an interactive educational playspace DreamPlay, designed for the whole family. Here both children and adults will have the chance to engage in interactive activities with their favorite Dreamworks' characters.
Melco's co-chairman, Lawrence Ho stated at the opening press conference that after establishing their position in world's biggest gambling market Macau, Manila was the logical next step for the company, as they have targeted Asian market to focus on in the future. During the conference Ho also spoke about company's thoughts about building a casino in South Korea, but Korean policy of not allowing access to locals made them focus solely on Manila for now. The Manila casino will also represent a significant boost to country's diverse tourist offer. As Clarence Chung Yuk Man, non-executive director of the Philippine Melco Crown, said, "We will promote cross marketing and also try to promote this property to our customers so that there is additional choice for them." In addition to this, the second co-chairman, Packer, said "I can see tourism growing hugely in the Philippines. I think you do have more fun in the Philippines."
The City of Dreams official grand opening featured a "Concert of Dreams" with American R&B star Ne-Yo and Kelly Rowland. The famous celebrity acts were followed by local stars Gary Valenciano, ZsaZsa Padilla Kyla, and Jed Madela. Unfortunately, despite the speculations that circled around after the commercial, Hollywood stars, De Niro, Di Caprio and Scorsese who were the ones to announce this opening did not attend.