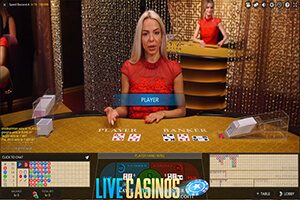 Baccarat has come a long way from a game played by soldiers in the late 15th century. Today, this is one of the most popular games at Macau-based casinos, especially with high-rolling players. Thankfully, you don't have to travel to Asia to feel a genuine casino atmosphere at Baccarat tables as they have come to your nearest desktop and mobile devices.
You can choose from different game variants available at tables hosted by real-life dealers. They include the ones offering side bets that can pay large prizes as well. One of the Baccarat variants you can enjoy online is so-called Speed Baccarat. If you are interested in this fast-paced game, stay with us to learn whether this game is a perfect fit for you.
Speed Baccarat Basics
What sets Speed Baccarat apart from other Baccarat variants is the speed of the gameplay. While the rest of the rules remain the same, in this game variation, you have only 12 to 20 seconds to place your bet. Due to this, you have to be on the alert and fully focused on the gameplay. Before anything else, you must know how to play the game. Luckily, Baccarat is one of the casino games with the simplest rules.
Just like in other Baccarat games, in Speed Baccarat you should place your bet on a hand that will be equal to or closest to nine. It can be the Banker or the Player or you can play a Tie bet and predict that both hands will have the same score. Learn more about general Baccarat rules and strategy here. Basically, Speed Baccarat shares the same rules with a twist in the time you have to place your bet. While in the standard version of Baccarat the cards are dealt face-down or even peeled slowly like in Baccarat Squeeze, in Speed Baccarat, the cards are dealt face-up.
Speed Baccarat Games Available at Live Casinos
At live casinos, you can play two Speed Baccarat games. Live Speed Baccarat is a game powered by Evolution Gaming where instead of 48 seconds, each round is completed within 27 seconds. You can read more about this fast-paced game in our review.
Within the Gold series, Playtech has also launched their version of Speed Baccarat. It is called Golden Speed Baccarat and each round of it is completed within 34 seconds. As for betting time, you have 18 seconds to place your bet. All cards are dealt face-down, including two extra cards which will be used as the third cards or in the next hand. The gameplay is sped up thanks to card scanners in the table.
Another Speed Baccarat table is powered by SA Gaming. It is called Live Baccarat Speed Shanghai and it hosted by Asian live dealers. Players have 20 seconds to place their bets including an optional Super 6 bet awarding bigger prizes. Read our full review of Live Baccarat Speed Shanghai by SA Gaming.
Is Speed Baccarat a Live Casino Game for You?
If you feel you are experienced enough, you can give Speed Baccarat a try. Keep in mind that you have to act quickly as you have between 12 and 20 seconds only to place your bet. This game is perfect for those players who prefer fast-paced action to anticipation and waiting for the dealer to reveal cards. A strategy you can apply is playing the game at a fixed bet instead of changing it from round to round. The Banker bet comes with the lowest house edge, so you can play it as long as you like. However, you should keep in mind that it pays the lowest prize of only 0.95:1. If you wish so, you can also increase your bet when you win or when you lose thus applying a positive or negative progressive betting system.